Big day in the Isch household - Aaron graduated from Salve Regina yesterday!
I remember telling my parents that I wasn't going to walk to get my diploma, to this day I'm not sure if they didn't think it was a big deal or if they just hid their disappointment. In any case the end of my college career was more of a relief than any kind of celebration and came immediately after I took that last final.
This weekend's events were quite a bit different than that. I'm not one for big celebrations, but I have to admit this was a lot of fun and I can clearly see how participating in the events really brings a definitive and positive closure to the whole thing.
Salve had a huge tent set up right on the Cliff Walk, impressive tent and views, though it was a bit weird seeing the people on the Walk right behind the tent, seemingly oblivious to what was going on inside.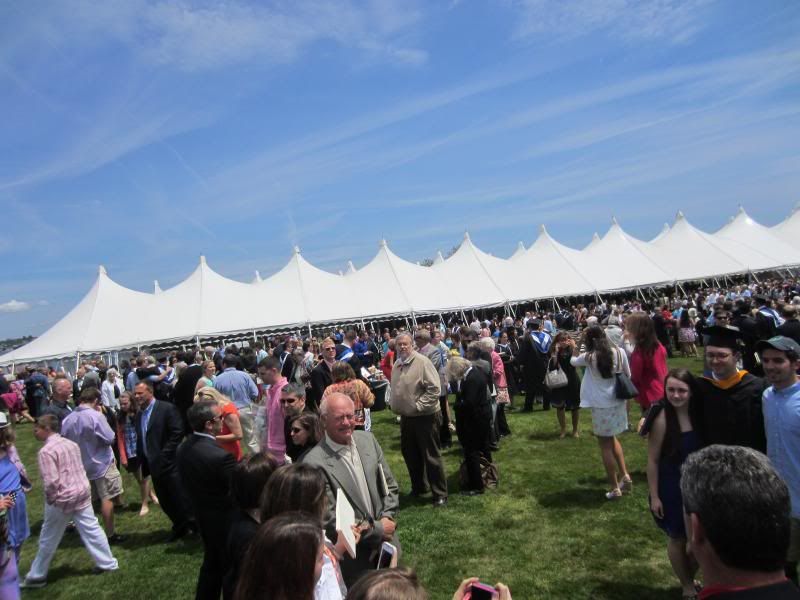 Before Aaron decided to go Salve we talked to a few people who graduated from there (mostly people who graduated a long time ago) and after all those years, they still got teared up when they described their college experience. I really enjoyed college, but it doesn't bring up those emotions in me.
Aaron clearly will have that same response about his four (+1) years at Salve. To watch him interact with his peers and walk confidently through the streets of Newport is really something, it shows not only how comfortable he is there, but also how much he has grown since high school. We walked to dinner on Saturday night, Newport was bustling with people, it seemed like every time we turned a corner there was someone who knew Aaron and was excited to see him.
On Saturday they held an honors ceremony, compared to Sunday's commencement it was a pretty intimate affair, there were 100 or so students who were recognized for some kind of honor. Aaron was awared Cum Laude, he missed Magna Cum Laude by only 0.03.
Emily and Aaron waiting for Aaron to get called up for the honors program:
Emily trying to keep the wait interesting: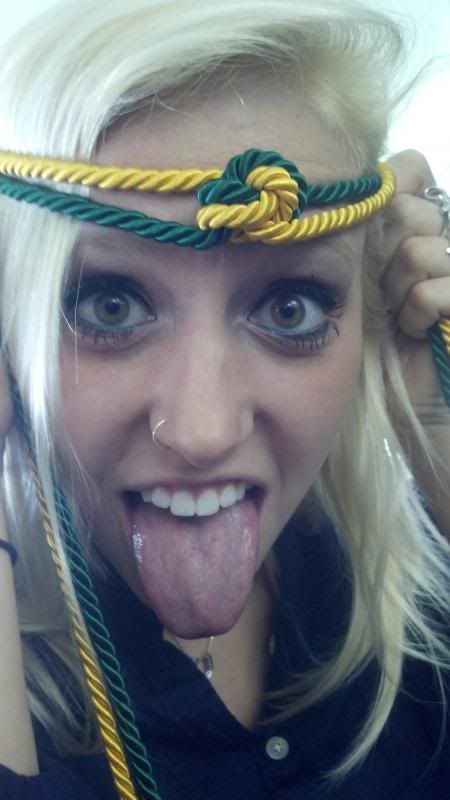 Aaron with us and his white cords indicating Cum Laude: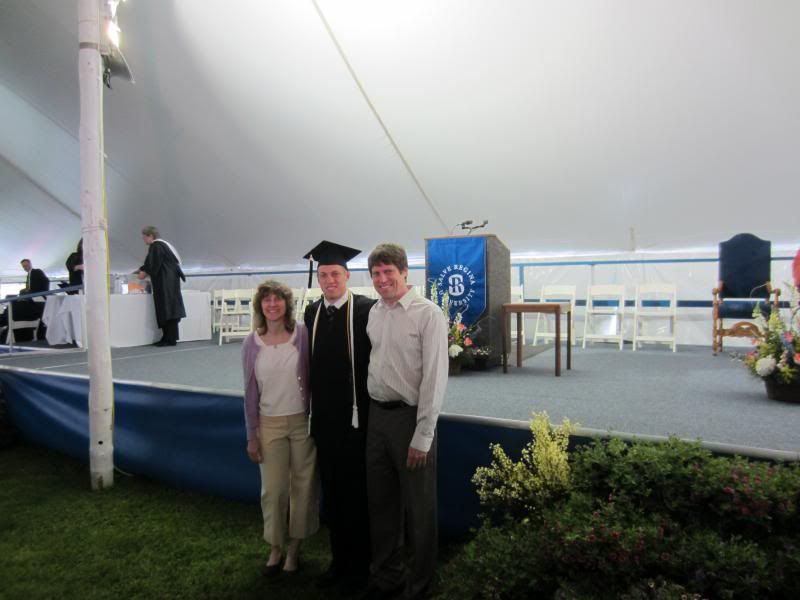 As expected graduation day was pretty insane, the tent was full and they even had seats outside the tent for people who didn't have tickets. I'll admit to tearing up a few times, its such a "point in life" kind of thing. I'll also admit that 95% of the ceremony was pretty boring, calling people up one at a time, with nearly 700 names that took quite a while. The normally quiet Isch clan did Aaron proud with a very loud cheer when his name was called. We paid for a picture of his handshake, so more on that later, but I wish I could have gotten a picture of Aaron as he was on stage waiting to make the walk, the smile on his face was priceless.
I did catch this picture after he walked on stage and he was heading back to his seat, he looks pretty dang happy: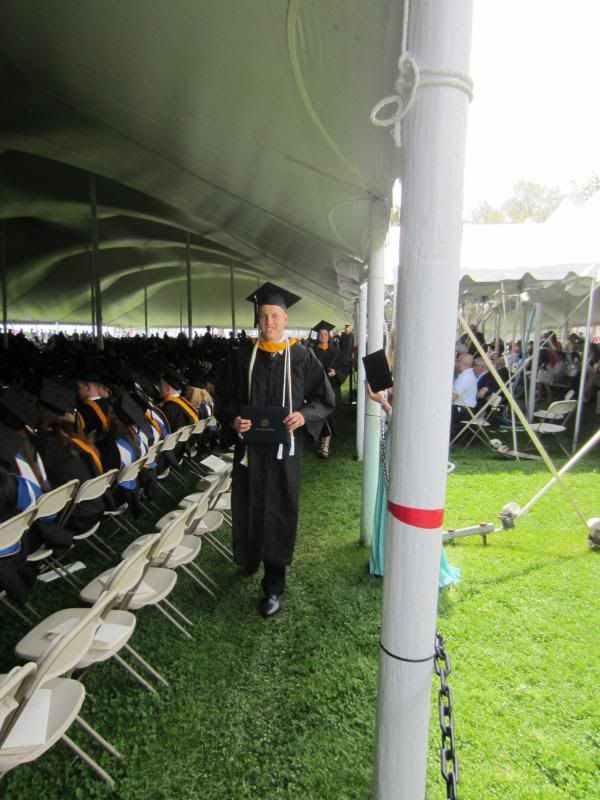 Like every one else there we took some pictures after the ceremony. One of his roommates family had a really nice camera and we'll get copies later - these are the scratch ones from my phone.
Aaron will miss these guys terribly (Jake, the fifth roommate is missing):
Aaron and his girlfriend Heather - terrible picture, but a great couple: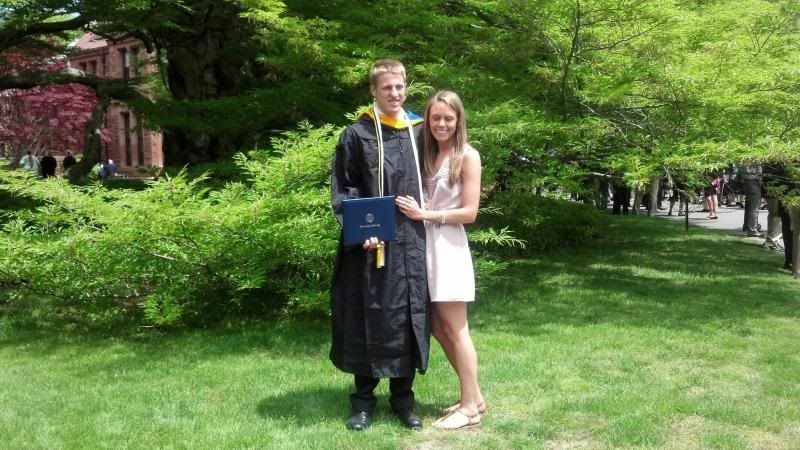 Aaron with my parents: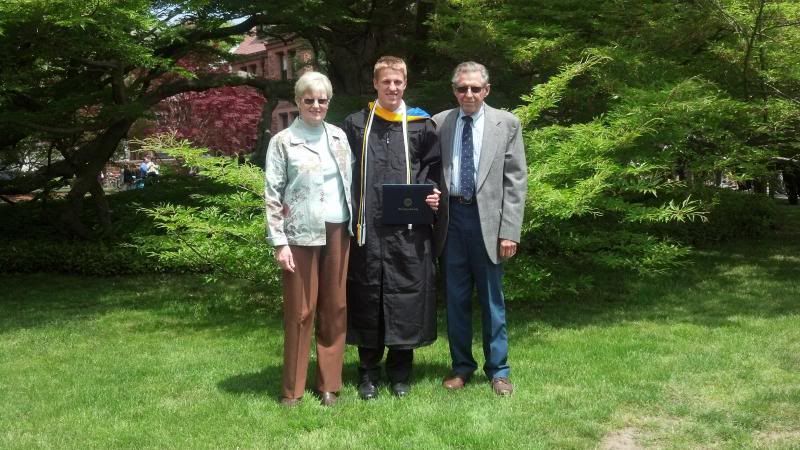 The family: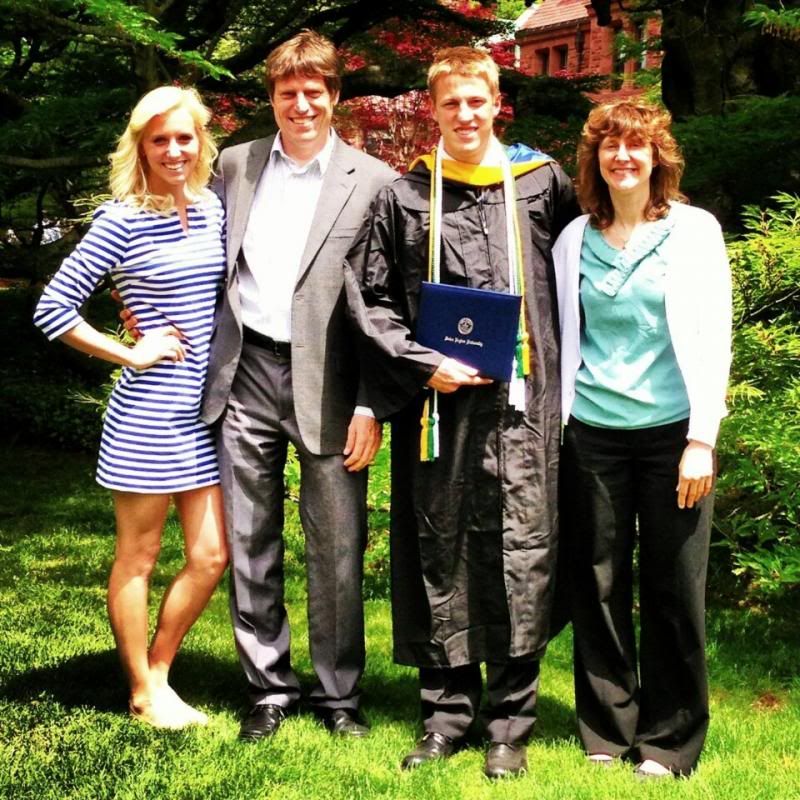 No matter where you walk on the Salve campus you can't help feeling a little bit like Harry Potter is going to step out from behind a building at some point: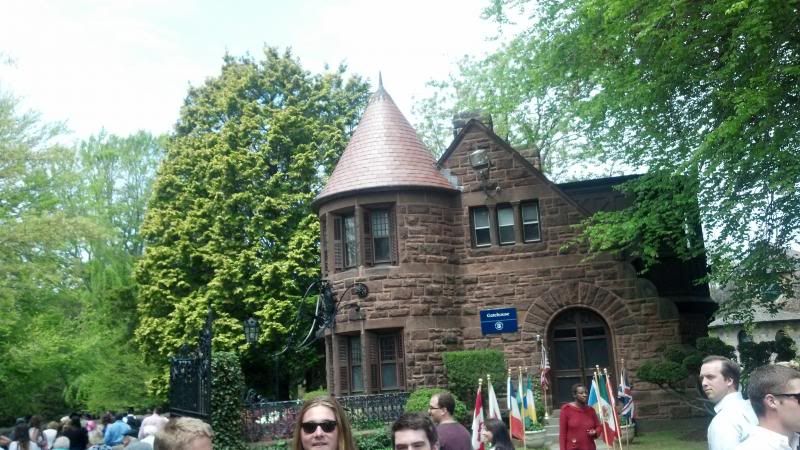 All in all a really great weekend, beautiful weather, easy logistics and smooth sailing throughout, you can't beat that. So its on to the next chapter in life for Aaron, which for the short term means another year at Salve to get his MBA. He's such a great kid, we can't wait to see how his life continues to unfold.